> Places > Palais Schrenck-Notzing
Das Palais Schrenck-Notzing
Dr Albert Freiherr von Schrenck-Notzing (1862-1929), a physician and parapsychologist practising in Munich, commissioned the renowned architect Gabriel von Seidl (1848-1913) to build a magnificent palace in Max-Joseph-Strasse. The freestanding monumental cube in High Renaissance style, which von Seidl designed in accord with his client's wishes, fits harmoniously into the classicist ensemble around Karolinenplatz. The architect was inspired by Palazzo Caffarelli,1 Raphael's residence in Rome. The façade is decorated with five Doric double columns extending over two storeys. The construction work was financed by Schrenck-Notzing's wife Gabriele Siegle, who was the daughter of the industrialist and Reichstag member Gustav Siegle.3 Visitors enter the building from the rear, where the garage for the physician's automobile (a Horch 18/251) was located at the time. His medical practice rooms were accessed through a door on the first landing of the main staircase. In 1886, Schrenck-Notzing numbered among the founding members of the Munich Psychological Society, where "the first parapsychological experiments had taken place" under his direction".4 Through his friend, the French physician and later Nobel Prize winner Charles Richet, he had heard of the Parisian "sleep dancer" Magdeleine Guipet (1874-?), who developed remarkable dancing abilities and facial expressions while in a state of hypnosis.
The spacious entrance hall with its coloured stone floor in Pompeian style and the Waller fountain with putti survived the Second World War largely unscathed. Also preserved are some fragments on the upper floor, as well as the staircase leading up to the presentation and social rooms. The palace, which has served as the seat of the Bavarian Farmers' Association since 1946, was renovated from 1980 to 1982. || (B.O.)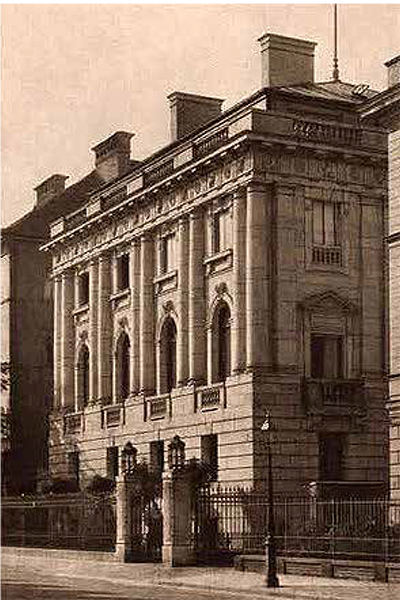 Palais Schrenck-Notzing | photo | from: "München und seine Bauten". Published by Bayerischer Architekten- und Ingenieurverein | Munich 1912, p. 396.
1 Manfred Dierks: "Thomas Manns Geisterbaron.Leben und Werk des Freiherrn Albert von Schrenck-Notzing", Gießen 2012, p. 213.
2 Gustav Siegle (1840–1905), was co-founder of BASF and majority shareholder of the WMF
3 Dierks, p. 215.
4 Quoted from Gerda Walther (editor): Albert von Schrenck-Notzing: "Grundfragen der Parapsychologie", Stuttgart 1962, p. 15, see also: Brygida Ochaim: "Franz von Stuck und der Tanz", [catalogue] 12. Jahresausstellung Franz von Stuck Geburtshaus Tettenweis, June 2000 – May 2001, p. 44.