DOCUMENTS
Here you can find texts, photos, films, audio recordings, paintings, graphics, publications and a wide variety of found objects related to Munich's dance history, accompanied by brief explanations or detailed commentaries.
New contents are added regularly.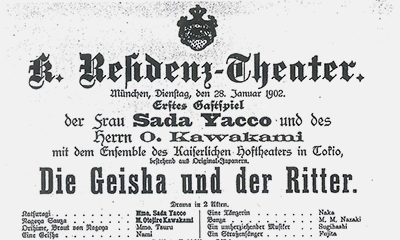 > Dokumente > ProgrammzettelAnkündigungsprogramm, Gastspiel von Sada Yacco in München 1902 | © Bayerische Staatsbibliothek MünchenProgrammzettel Sada Yacco Am 28., 29. und 30. Januar 1902 gab die japanische Schauspielgruppe von Otojiro Kawakmi und Sada Yacco im...